What we do
Please select the service
WHAT WE DO AT H&K MÜLLER
FROM THE IDEA TO THE FINISHED PRODUCT
Consultancy and development
IDEAS ARE MADE TANGIBLE
Together with our customers, our employees develop concepts that turn customer requirements into reality. Our experienced customer advisors and developers can draw on 90 years of expertise in the design and development of injection moulded parts. All individual injection moulded parts are specially designed to meet the needs of the respective customer and intended use. Your idea becomes tangible. Whether 3D animation or stereolithography samples. We bring your idea into the injection moulding series.
Design
SHAPED BY EXPERTISE
All injection moulds are designed in our technical department and made in our own tool shop. Customers benefit from our own tool shop, and our more than 85 years of experience in designing and building moulds. Today, there are innovative technologies for making parts to customer order by means of dimensional data, graphic information or with prototypes. With our knowledge of what is possible and feasible, we help customers make their wishes reality and give shape to their ideas.
Materials and colours
PLASTIC IN FOOD-SAFE COLOURS
The look and design, as well as the technical and legal requirements, drive the choice of material and colour. Extensive testing is necessary for identifying advantages and disadvantages. Modifications to machines and feed devices are necessary to make the most of the advantages. In close coordination with material and colourant suppliers, we assure food and pharmaceutical safety. Through product specifications and declarations of conformity, we help customers meet their often wide-ranging evidence obligations.
Tool shop for injection moulding tools
INJECTION-MOULDING TOOLS FROM A SINGLE SOURCE, MADE IN GERMANY
We make and maintain all of our moulds in our own in-house tool shop. Our expertise and the mould dimensions are based on over 80 years of experience in the construction of high-precision, high-quality and long-life injection moulding tools. Using modern CNC flat and round grinders, milling and spark erosion machines, we can make moulds up to 1100 x 700 mm in size. Using our own injection-moulding tools lets us minimize downtime and make mould changes very quickly. Furthermore, the close collaboration of design, tool shop and sales lets us handle customer-specific projects flexibly and promptly. In everything we do, our goal is to provide customers with the best possible product and service quality.
Injection moulding production
FORMING PLASTIC – LONG-TERM INNOVATIVE INJECTION-MOULDING TECHNOLOGY
In our production facility built in 2008 in Engelskirchen, we comply with the highest standards in product quality (DIN EN ISO 9001), food safety (DIN EN ISO 22000), energy management and efficient use of resources (DIN EN ISO 50001). A controlled supply of filtered air ensures very low microbial production per ISO 22000. Slight overpressure reduces any dust contamination.
Our 55 modern injection-moulding machines, with closing forces of 50 to 220 t, are typically equipped with extraction robots and other peripherals to ensure modern and energy-efficient production. Constant quality checks per quality assurance systems according to DIN EN ISO 9001 further protect our high production standards. Thanks to the high flexibility of our manufacturing processes, we can do large and small production lots.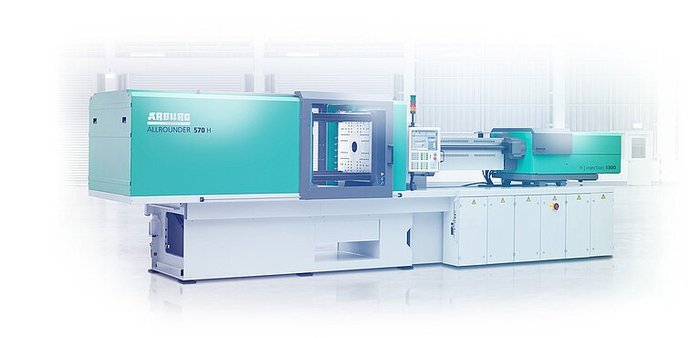 Injection moulding machine at H&K Müller Manufacturer of plastic packaging and injection moulded parts
Special machine engineering and turnkey solutions
LARGE UNIT QUANTITIES, AUTOMATED, CLOSED AND COMPLETED
The manufacture of new customer-specific products in large quantity requires more and more automation. Therefore, even in the product concept phase, close attention must be paid to automation possibilities. This has given us long experience in the design, planning and construction of special machines for the manufacture of individual injection-moulded components. In addition, we design and build machines and systems for the assembly and completion of customer-specific packaging and injection-moulded components.
Embossing, silkscreen and decorating
CLEANLY PRINTED AND PERMANENTLY EMBOSSED
Getting an own component from a specially made injection mould is the highest level of individuality and exclusivity. But standard items can also be upgraded and given exclusivity with special colouring, screen printing or foil embossing. In addition to providing necessary information, this can make a big change in the way the overall product looks. Screen printing and embossing always form a unit with the plastic article, making them a high-quality decoration option.
Reference products screen printing
Logistics
MODERN SUPPLY MANAGEMENT
Product protection by means of functional packaging, protected storage, adherence to schedules, flexible reaction to changed requirements. We meet these basic requirements, and also organise special transportation and logistics solutions as a service to our customers. We have a finished product warehouse with around 43,000 m² of floor space and 1,350 high-bay pallet spaces. Thanks to the good infrastructure in our region, our direct access to the A4 motorway and our proximity to the Cologne freight and logistics centre, we are in a position to provide optimum national and international transportation, be it by truck, rail, container, or in special cases by air freight.
Quality assurance and certificates
GUARANTEED CERTIFIED
In our production, we work to ensure consistent quality under consistent, monitored conditions with defined and documented processes. Our qualified personnel examine and pack our series products, and submit them to qualitative visual inspection. Additionally, Quality Assurance examines random samples to assure long-term reproducibility, dimensional accuracy and colour-correctness. The continuous maintenance and care of machines and tools ensures traceability of production data and parameters, and batch traceability with regard to raw materials, production orders and moulds.
With the move to our new production location in 2009, we updated our building and facilities to the latest state of the art. Thus, we now meet and successfully implement DIN EN ISO 9001 as well as the requirements for certification to DIN EN ISO 22000 (food safety management). Investments in buildings and machines have further enabled us to attain certification to DIN EN ISO 50001 (energy management).