Industries

Cosmetics
COSMETIC PACKAGING FROM PLASTIC
CREAM, MAKEUP AND LOTIONS, STERILE AND HYGIENIC
The most diverse areas of application require individual adaptations of the packaging in order to meet the legal requirements and the design requirements at the same time. These sometimes high standards are particularly evident in the field of cosmetics packaging. Hygienic, qualitatively strictly monitored production offers the required product protection for high-quality cosmetics packaging.
As a packaging manufacturer for cosmetics, H&K Müller offers both an extensive standard range of plastic jars and packaging for cosmetics as well as the possibility of individual cosmetics packaging development. There are virtually no limits to creativity. Please contact us.
---
An application area with individual requirements
The cosmetics industry has special requirements for its packaging. Especially in terms of hygiene and quality, cosmetics packaging must meet strict requirements.
Sustainable packaging for cosmetics
In addition to classic plastics, we also offer cosmetic packaging made from sustainable materials. Environmentally friendly packaging for cosmetics can be made from both bio-based and biodegradable plastics. These are also approved for use in the cosmetics industry.
---
Reference products in the cosmetics industry
Cosmetic packaging, jars and cream jars directly from the manufacture
Decorations and individualisation
You have the option of having your cosmetics packaging printed according to your ideas. In our in-house screen and embossing printing, we can flexibly realise high-quality individual decorations according to your wishes. Metallisation or varnishing of the cosmetics packaging can also be carried out on request.
Cosmetic packaging from H&K Müller
As a manufacturer of packaging solutions, we also offer you suitable packaging for the cosmetics industry. All packaging for cosmetic products is manufactured in our production facility in Engelskirchen, which is quadruple certified according to DIN EN ISO 9001 Quality Management, DIN EN ISO 22000 Food Safety, DIN EN ISO 50001 Energy Management and ISCC Plus.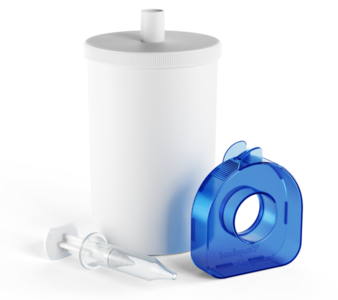 Individual plastic packaging for cosmetics
Cream jars and cosmetic packaging according to customer requirements
H&K Müller has many years of experience in the development, production, decoration and finishing of customized packaging for cosmetic products, such as: cosmetic jars, cream jars and ointment jar. Our references include well-known brand manufacturers and contract fillers. In close cooperation with our customers, our design and development department develops individual packaging solutions that are tailored exactly to the respective customer requirements. As a full-service provider with our own toolmaking department, we can implement customer-specific solutions in the shortest possible time, from the initial idea to 3D printing samples, tool production and the first serial part. In our screen printing and embossing departments, we can individually decorate your cosmetics packaging and thus achieve an even higher degree of individualisation of your packaging.