Industries

Food
PLASTIC PACKAGING FOR FOOD DIRECTLY FROM THE MANUFACTURER
SWEET, SALTY AND SPICY PRODUCTS APPETISINGLY PACKAGED
Are you looking for plastic packaging for food? Then it's best to order them directly from the manufacturer. Thanks to decades of experience, we can offer you high-quality, hygienically safe and, on request, individual packaging solutions for food. We will be happy to advise you on the various options.
---
Foods place high demands on packaging
Freshness, shelf life and cleanliness: in the case of food, these requirements apply to both the contents and the packaging. Since 2009, H&K Müller has been certified according to ISO 22000 Food Safety and Hygiene. The integrated management system according to ISO 9001 as well as ISO 22000 is the basis of our activities. Daily care and conscious fulfilment of quality requirements as well as regular training and control are daily routine for each and every one of our employees, but at the same time also motivation and identification with the products of our customers.
Individual packaging solutions
Liquid, gel or powder in whatever form, we as a manufacturer of food products offer an extensive range of plastic jars for packaging food, as well as measuring scoops and measuring beakers for exact dosing of food supplements. In addition, we have many years of experience in the design, development and production of individual packaging solutions for distinctive products in the food and food supplement industry.
---
Reference products in the food industry
Food packaging from H&K Müller for versatile uses
Let us advise you
We will be happy to advise you on the special requirements for plastic packaging for food, such as tamper-evident seals and closures. The use of sustainable, biologically based plastic materials is also possible in the area of food packaging on request. Purchase your food packaging directly from the manufacturer and get exactly the packaging that fits the requirements of your product.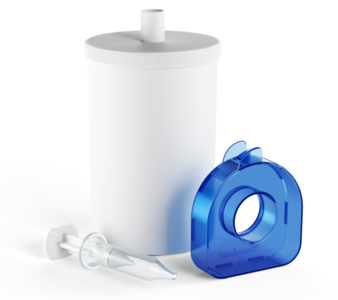 Individual plastic packaging for food
Food packaging and measuring scoops individually according to customer requirements
Thanks to our in-house design and development department as well as our toolmaking department, we can react flexibly to a wide variety of customer requirements. Thus, we are efficiently positioned for the development, production and decoration of individual packaging and dosing aids for food. Sustainable food packaging made of biodegradable as well as biologically based bio-plastics can also be produced on request. As a manufacturer, we are proud to count well-known brand and contract manufacturers from the food industry among our references, for whom we have been developing and producing individual injection moulded packaging for many years. Do you have any questions about individual dosage aids or plastic packaging for foodstuffs or food supplements? We will be happy to advise you on your individual packaging or dosing aid for foodstuffs.