Company

Circular Economy Plastic Packaging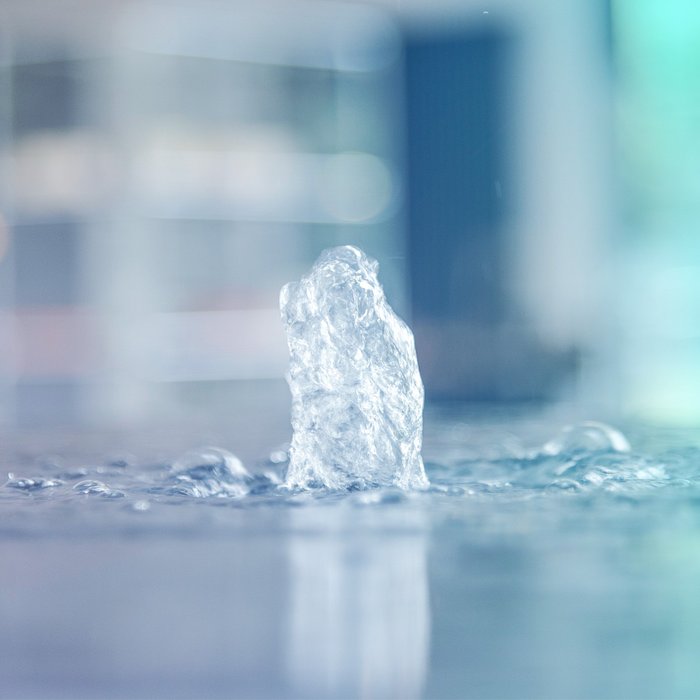 Recyclable material cycle of plastic packaging
CIRCULAR ECONOMY IN THE PLASTIC PACKAGING INDUSTRY
THE CIRCULAR ECONOMY IN THE PLASTIC INDUSTRY
Never before have the topics of "circular economy", "recyclable materials cycle", "sustainability" and "resource-conserving action" been of greater interest to the environment and society than they are today. For years, national and international legislation has been trying to promote the responsible use of resources, the protection of people and the environment as well as the recycling of waste by means of central guidelines and measures.
In the plastics industry, however, linear value chains still exist for the most part in the area of plastic packaging, which do not ensure that the plastic material is recycled at the end. For example, plastic waste is often only thermally recycled, i.e. incinerated to generate electricity or district heating, or sold via prohibited detours to developing countries in Africa or Asia, where it usually ends up in the environment or the oceans. Unfortunately, recycling is still far too rare.
There are several reasons for this. On the one hand, the research and development of sorting and recycling plants has been neglected for many years against the background of cheap new material and a lack of economic efficiency. In addition, the use of recycled plastics in packaging is not legally permitted for certain areas of application. Due to the regulations EC 1935/2004 as well as EC 10/2011, most mechanically processed plastic waste made of polypropylene (PP), polyethylene (PE) as well as polystyrene (PS) may not be used for primary packaging in the food and pharmaceutical sector. In the area of cosmetic packaging, recycled plastic materials may also only be used under certain conditions.
What is a circular economy and how does it work?
The circular economy is a model in which resources and products are reused, remanufactured and recycled for as long as possible. In this way, waste is reduced to a minimum and resources are conserved.
A circular economy stands in contrast to the linear value chains of a throwaway society.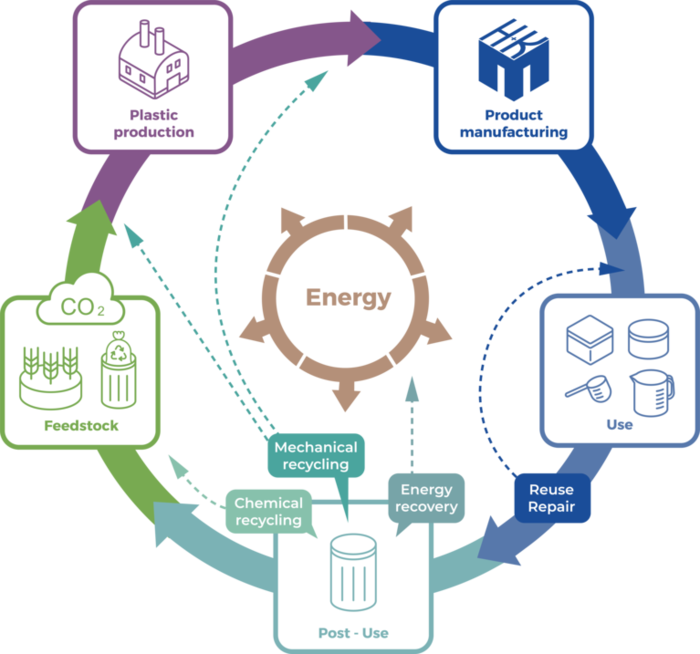 Circular economy in the plastic packaging industry using the example of the sustainable injection moulded packaging manufacturer H&K Müller from Engelskirchen.
Renewable plastics and energy - sustainable processing - long service life - recycling - reprocessing
Classical plastic is based on waste or by-products of petroleum refining. Like all fossil resources, the starting products of plastics production are therefore only available in finite quantities. At the same time, against the backdrop of rapidly advancing climate change, a massive reduction of CO₂ emissions of fossil origin is necessary. There is a need for responsible handling of plastics as a valuable material. Without plastics, for example, it would not be possible to guarantee the food supply we are accustomed to today or the established high medical standards in our society.
Contrary to what is often assumed, the use of alternative materials such as sheet metal, glass or coated paper composite packaging is not an alternative to plastic. On the one hand, in contrast to plastic, they cause many times higher CO₂ emissions during processing and, due to their higher weight, also during transport. On the other hand, coated or lacquered paper composite packaging can only be thermally recycled, which means that valuable resources, some of which are only available to a limited extent, are lost.
In order to be able to achieve politically set climate protection and sustainability goals, a resource-conserving recycling economy is needed that increasingly relies on secondary raw materials. It is therefore imperative that packaging and products made of plastic are developed for recycling as easily as possible.
What are the possibilities for recycling plastic waste within the framework of a circular economy?
The mechanical reprocessing
In this method, the plastic waste is sorted by plastic type in sorting plants, shredded and impurities are "mechanically" removed in multi-stage washing and cleaning processes. In order to be able to achieve constant process parameters during reprocessing, the cleaned plastic waste is then regranulated into granulate. During mechanical recycling, the basic polymer structure of the plastic remains almost unchanged.
The chemical reprocessing
In the chemical reprocessing of plastic waste, the polymer chains of the plastic waste are broken down by adding pressure and heat in a complex and energy-intensive process. The plastic waste is converted back into its monomeric building blocks. The result of this process, also called thermal pyrolysis, is crude tall oil. This forms the starting material for refining new plastic material. In this process, new polymer chains are built up within a synthesis process.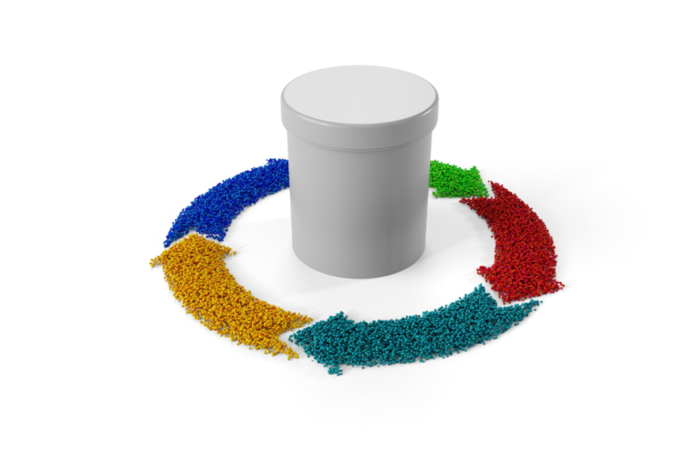 Circular Economy and plastic packaging
Measures to increase the reuse rate of plastic waste
WHAT CONTRIBUTION CAN MANUFACTURERS AND DISTRIBUTORS OF PLASTIC PACKAGING MAKE?
H&K Müller's commitment to a sustainable circular economy
H&K Müller, as a sustainably oriented manufacturer of plastic jars, plastic packaging, dosing aids and plastic injection moulded parts, has been processing recycled plastic waste for over 60 years. These come from our own production waste, sprues and start-up goods. In addition, H&K Müller has been working for many years with renowned manufacturers of biologically based and recycled post-consumer recyclates. Thanks to intensive research and development work with our partners, H&K Müller is able to produce almost the entire standard range from plastics of biological origin and, where the current legal situation permits, from mechanically reprocessed recyclates.
H&K Müller is one of the few packaging manufacturers in Germany to be certified according to ISCC Plus (International Sustainability & Carbon Certification) and is thus authorised to process sustainable ISCC Plus certified plastics of biological origin.
During the construction of the new production site in 2009, particular focus was placed on energy efficiency, resource conservation and environmental compatibility. With a photovoltaic system with an output of 420 kWp on roof surfaces, H&K Müller generates around 17 % of its energy requirements itself. A sophisticated cooling system is used for cooling and air-conditioning of machines, plants and production halls, which is supplied by deep wells and free coolers. A clever structural arrangement of individual parts of the building makes it possible to dispense with an energy-intensive pneumatic conveyor system for plastic granulates.
More than 97 % of the plastic packaging and injection moulded parts produced by H&K Müller are single-grade, i.e. consist of one type of plastic (PE, PP, PS, ABS). In the remaining proportion, two different types of plastic are merely mechanically joined together and not glued or welded. This makes it easy to recycle by the end user or in recycling plants.
H&K Müller offers its customers the option of individual finishing and decoration by means of screen printing or embossing. The applied screen printing inks as well as embossing foils are environmentally friendly and do not hinder mechanical material recycling, unlike labels or inmould labels.
The central location of H&K Müller's plastic injection moulding plant in Engelskirchen in the Oberberg region, with direct access to the A4 motorway, enables us to serve customers throughout Germany quickly and with short delivery routes.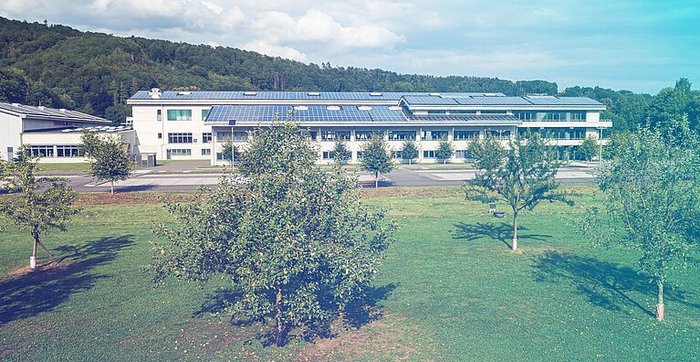 Circular economy at the plastic packaging manufacturer H&K Müller
The H&K Müller product portfolio
SUSTAINABLE PACKAGING FOR A CIRCULAR ECONOMY
Contact form
CONTACT H&K MÜLLER