Industries

Pharmacy
PHARMACY PACKAGING MADE OF PLASTIC
TABLETS, PILLS AND CAPSULES, PHARMACEUTICALS HERMETICALLY SEALED
The pharmaceutical product, the area of application and the safety requirements determine the type and form of pharmaceutical packaging. In the case of pharmaceutical products and medicines, special requirements have to be taken into account for the plastic material used.
The base material is selected in close consultation with our customers and in compliance with the relevant legal regulations. As a manufacturer of plastic jars and dosing aids for the pharmaceutical industry, H&K Müller selects the material according to the intended use and can modify it in cooperation with the raw material supplier if necessary. Thanks to our many years of experience, we know what is important in the production of pharmaceutical packaging and can provide you with competent advice.
---
Packaging for the highest requirements of the pharmaceutical industry
To protect the contents and to prove the integrity of the packaging, screw-top containers with tamper-evident closures and slip-top containers with tamper-evident closures can be used. This enables us to meet the high demands on quality and hygiene that the pharmaceutical industry entails. Above all, the various pharmaceutical substances require appropriate packaging that is adapted to the respective special features.
---
Reference products in the pharmaceutical industry
Plastic jars, measuring beakers and scoops for preparations with the highest requirements
Production of pharmaceutical packaging under high quality standards
All plastic packaging for use in the pharmaceutical industry is manufactured under high quality, hygiene and environmental protection standards in our production facility in Engelskirchen near Cologne, which is certified, among other things, in accordance with ISO 22000 food safety. Among other things, we permanently review our energetic processes. At the same time, we optimise and standardise all work steps along the value chain with regard to our understanding of quality. Do you have any questions about our production facility or our pharmaceutical packaging? Contact us, we will be happy to advise you!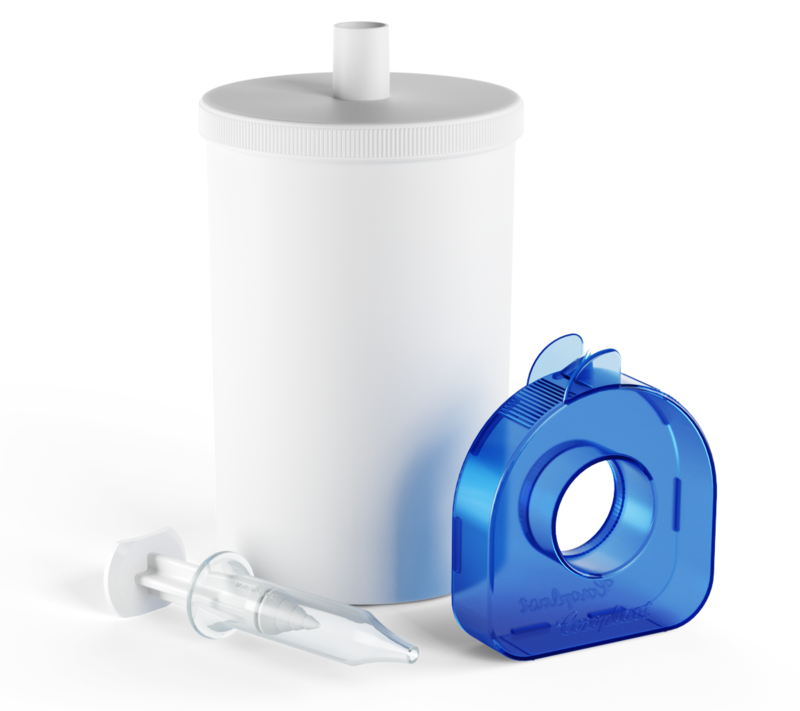 Individual packaging and dosing aids for pharmaceutical and medical products
Screw top and slip lid containers with tamper evident closure, measuring cups and measuring spoons for medicine and pharmacy
Are you looking for a suitable packaging solution or dosage aid for your medical or pharmaceutical product and cannot find it in our standard range? H&K Müller is your contact for individual packaging solutions and dosing aids. We have our own in-house design and development department. All injection moulding tools used at H&K Müller are built, serviced and maintained in our own tool shop. In recent years, numerous individual projects for well-known customers in the medical and pharmaceutical industry have been successfully realized and implemented. Our production facility is certified according to DIN EN ISO 22000 food safety and DIN EN ISO 50001 energy management and thus fulfils high requirements for hygiene and sustainable use of resources.