Company

ISCC Plus certified plastic packaging
H&K Müller is certified as a manufacturer of plastic injection moulded packaging according to ISCC Plus
WHAT IS CERTIFICATION ACCORDING TO ISCC PLUS STANDARD?
H&K Müller is certified as a sustainable and resource-saving manufacturer of plastic packaging, dispensing aids and injection moulded parts according to the criteria of the "International Sustainability and Carbon Certification System" (ISCC Plus). ISCC Plus is an internationally independent certification system for the implementation of ecologically, socially and economically sustainable supply and value chains on a mass balance basis. ISCC Plus certification certifies the exact and complete traceability of the materials used for injection moulding production at H&K Müller. In addition, certification in accordance with the ISCC Plus Standard also confirms that the materials processed actually originate from sustainable sources. Using the mass balance system, the proportion of renewable raw materials that went into the manufacturing process of the plastic at the beginning can be mathematically assigned to the packaging or end products. In this way, manufacturers can quantify the sustainable choice of raw materials and display it on the product so that consumers can make a conscious purchasing decision.
H&K Müller is supplied by manufacturers or dealers of biologically based or recycled plastics who are also ISCC Plus certified. Through their ISCC Plus certification, these guarantee complete traceability of the sustainable material origin, right down to the chemical raw materials. With its own ISCC Plus certificate, H&K Müller underscores its activities in the area of sustainability and resource conservation and also guarantees complete traceability of the ISCC Plus certified plastic materials it purchases along the entire injection moulding production process, right through to delivery to the end customer.
ISCC certified plastic containers and packaging
The circular economy in the plastics industry
WHAT DOES IT MEAN?
Instead of banning the innovative material plastic, with its outstanding properties such as low weight, flexibility, stability or UV resistance, from modern society, the circular economy takes a holistic approach to solving the plastic waste problem, as has been used in the paper or glass industry for years. The concept of the circular economy is based on the factors: reduce, reuse, recycle.
Plastic packaging is redesigned to optimise its use of materials and to eliminate unnecessary packaging components.
Wherever possible and permissible, plastic products are reused or given a secondary use and not thrown away.
All plastics are fully and therefore 100% recyclable.
Through continuous infinite reuse of plastic within a circular economy, no plastic material ends up in the environment. Furthermore, the use of plastics is decoupled from the consumption of finite resources. Through continuous research and further development of collection and reprocessing plants, it has been possible to massively increase the amount of recycled plastic waste in recent years. Parallel to this, more and more fossil raw material components can be replaced by renewable raw materials from responsibly managed areas.
Implementing the concept of a circular economy is a fundamental step towards achieving the climate goals that have been set.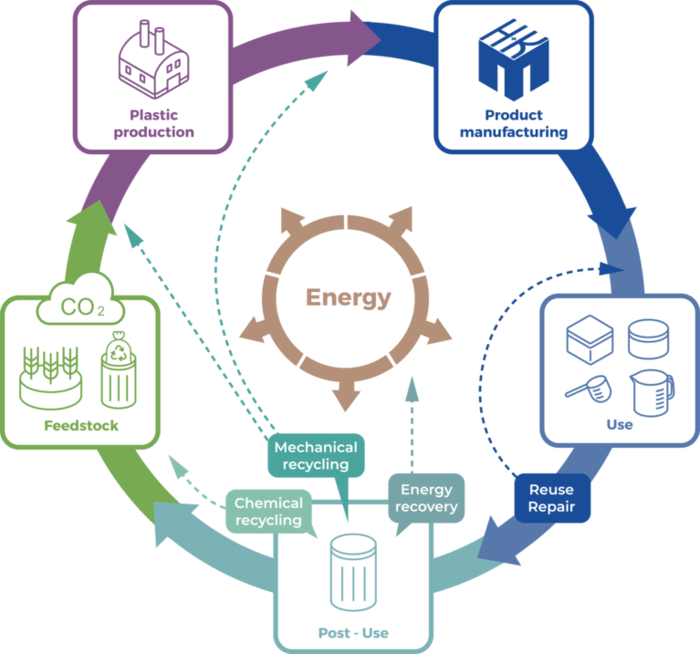 The circular economy explained using the example of the H&K Müller company
ISCC Plus certified sustainable plastic materials
WHICH PLASTIC RAW MATERIALS ARE AVAILABLE WITH ISCC PLUS CERTIFICATION?
H&K Müller offers its extensive range of plastic jars, dispensing aids as well as injection moulded parts made of ISCC Plus certified plastic materials based on tall oil. Tall oil of biological origin, also known as liquid rosin, is a by-product or waste product of pulp production based on tree resin. Tall oil is produced in large quantities in the paper industry, so that a certain security of supply of this sustainable raw material is ensured. The ISCC Plus certified plastics processed at H&K Müller on the basis of tall oil are therefore bio-based and do not differ from comparable fossil plastic raw materials in terms of appearance, feel or mechanical properties.
Our staff will be happy to advise you on ISCC Plus certified plastic packaging.
---
Contact form
CONTACT H&K MÜLLER